About Bob 'Tug' Wilson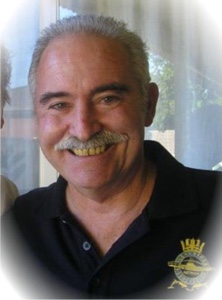 Dear Friends,
I met Bob on a blind date in Sydney, at what was then Beberfald's Corner (Town Hall Station, now Woolworths,) in October 1962; he had only been in the Navy for four months. After a four year courtship we married in 1966 and travelled to the UK for Submarine training. We travelled through life's journeys and ended up in Queensland where we lived at Edens Landing, between Brisbane and the Gold Coast.
It was when Bob was diagnosed with terminal cancer that he decided he had to do something for the young ones. His mantra was "I have lived a good life, theirs is just beginning".
So in 2007 Bob 'Tug' Wilson's Walk for Kids with Cancer was born.
This first walk began in May 2008 from Coolongatta in Queensland and finished in Canberra, ACT in June 2008. There were eight permanent walkers and support vehicles. Along the way Bob's submariner mates organised accommodation and functions to raise money.
This epic walk took 34 days to complete, walking along the Pacific Highway, Hume Highway and the Federal Highway to the Naval Memorial on Anzac Avenue in Canberra. Unfortunately, Bob lost his battle with cancer just three weeks before the walk commenced, but the family kept his wish for the walk to go ahead.
The walk raised a total of $74,128.39 which was donated 50/50 to The Children's Hospital at Westmead and the Royal Brisbane Children's Hospital.
Over the last ten years we have raised in excess of $1 million with all of the funds donated to The Cancer Centre for Children at The Children's Hospital at Westmead.
With the help of The Children's Hospital at Westmead, the Bob 'Tug' Wilsons Walk for Kids with Cancer is now an annual event with our number of walkers in 2018 at 642 who collectively raised an incredible $315,000.  In 2019, we have added a new family friendly 1km starting point, which will be an awesome addition that everyone can join in with on this fun day.
So gather up your family and friends to walk from The Rocks, Circular Quay to Manly around the beautiful Sydney Harbour and keep the memory of Bob 'Tug' Wilson alive.
Kind regards,
Carol Wilson
(wife of the late Bob Wilson)