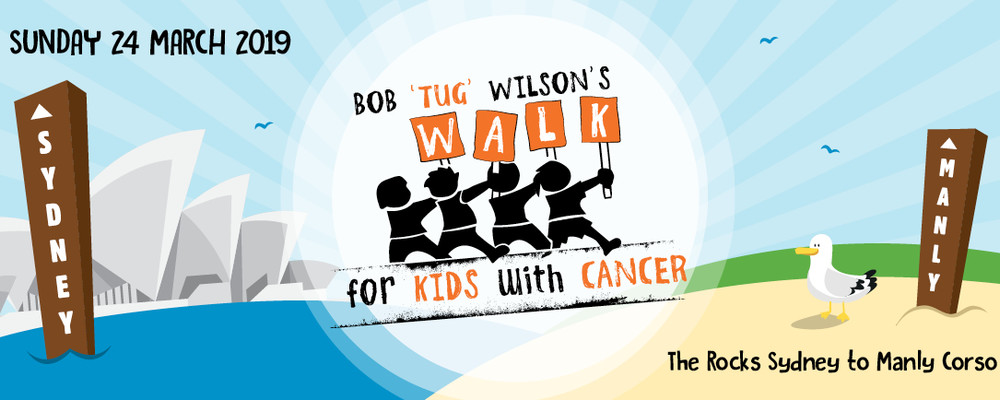 Proudly supporting the Cancer Centre for Children, the Children's Hospital at Westmead
Thank you for your support of the annual Bob 'Tug' Wilson's Walk for Kids with Cancer!
Early on the morning of Sunday 24 March, 714 walkers embarked on a tremendous journey. Some completed the epic journey across the bush paths all the way from the Rocks, others joined in at Manly and even more still joined us in spirit through the virtual walk. Every single person contributed to an amazing $329,965 raised for sick kids just like Chase at the Cancer Centre for Children.
Whether you donated, fundraised, sponsored or walked, every contribution is a valued one. We are so very grateful for the generosity shown to ensure the success of this event.
A big thank you also must go to all of the businesses and individuals who assist us in putting on the Walk. Thank you to Pureau Australia, Bakers Delight – in particular the Mosman store, Harris Farm Markets, Chobani, Absolute Health Solutions, My Fast Ferry, Community Medics Australia and each and every smiling volunteer who cheered our walkers along.
Take a look here at some of the great photos from the day.
Now in it's 11th year, the walk was originally started by the late Bob 'Tug' Wilson, suffering from terminal cancer he just wanted to do something for the 'young ones'. The walk has funded important clinical trials conducted at The Children's Hospital at Westmead which result in better outcomes for children with cancer.
Sign up now and get walking!